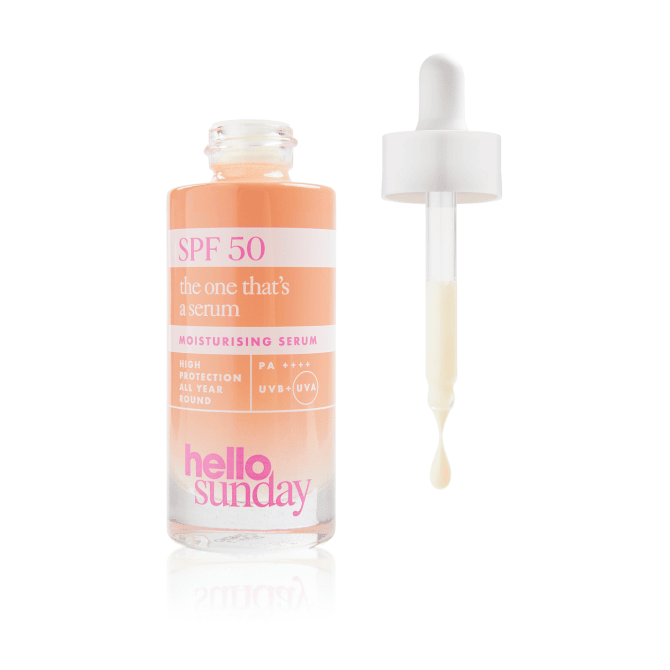 THE ONE THAT'S A SERUM - Best-selling, award-winning Serum: SPF50
Our best-selling, award-winning SPF Serum just got an upgrade!
The One That's a Serum is a hydrating, featherlight, high factor serum now boasting SPF50 UVA + UVB protection with multifunctional benefits, as well as protection from blue light, infrared and pollution... all this AND the hydrating benefits of classic skincare ingredients you know and love - Vitamin C and Hyaluronic Acid.
This lightweight serum is fragrance free and fast absorbing with a glowing finish meaning no sticky residue or white cast, making The One That's A Serum perfect for every skin type, tone and texture.
SPF should always be worn as the last step in your skincare routine, however, the nourishing skincare ingredients in The One That's A Serum mean that with or without your moisturiser, your skin will feel hydrated and glowing. every. single. day.
SUITABLE FOR: All Skin Types
RECOMMENDED FOR: Anyone who loves a glowing finish
THE ONE THAT'S A SERUM - Best-selling, award-winning Serum: SPF50
Best ever
Holy grail product. The only sunscreen that doesn't break me out
the one that's a serum - face drops: SPF 45
Great UK Based company,product range is amazing i have also purchased, the one that makes you glow - dark spot serum SPF 40 as well, i must say both are very good.
Highly recommend!
Lovely product, lightweight but good coverage!
Lovely!
Feels great on my skin and I love the consistency, very lightweight so perfect under makeup.
Just wonderful!
I live in a very tropical area where I need to trust my daily sunscreen works and this quickly became my favorite! Not only is it light enough for me to feel comfortable wearing it all the time, but it works great! I have repurchased over and over again, and definitely plan to repurchase again in the future.