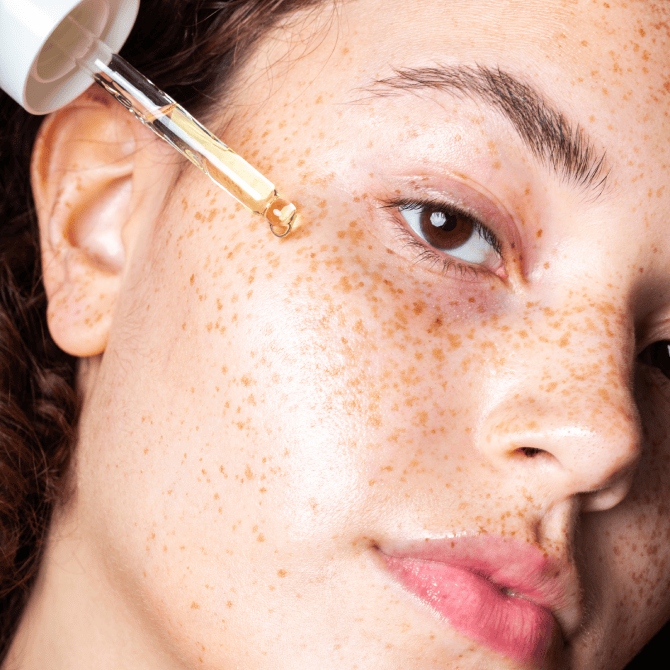 THE ONE THAT MAKES YOU GLOW - Sun protecting, dark spot serum: SPF40
Looking for a hyperpigmentation treatment that you can wear during the day? Then say Hello to The One That Makes You Glow!
Did you know that retinol causes increased sensitivity to sunlight, and that most hyperpigmentation treatment products contain Retinol making them unsafe for use during daylight hours? Fear not, The One That Makes You Glow contains a powerful combination of high-factor UVA + UVB protection and hyperpigmentation treatment ingredients meaning not only is this product clinically proven to treat dark spots and hyperpigmentation, but it was designed for use during sunlight hours.
The One That Makes You Glow is a concentrated oil serum packing a powerful treatment active (Hexylrescourcinol) and hydrating and nourishing skincare ingredients which even out skin tone and texture proven to improve skin luminosity.
The One That Makes You Glow is clinically proven to visibly reduce hyperpigmentation:
90% of people agreed that skin looked more hydrated after use
81% of people agreed that skin looked more luminous after use
76% of people agreed that skin felt more hydrated after use
*based on clinical trials with 20 people over a 56 day period
SUITABLE FOR: Balanced to dry skin types.
RECOMMENDED FOR: Visible hyperpigmentation or dark spot concerns.
NOTE: If you are pregnant or breastfeeding, please seek medical advice before using due to the Hexylresorcinol content
THE ONE THAT MAKES YOU GLOW - Sun protecting, dark spot serum: SPF40
Wonderful product!
I am in love with this product! I tried it last year for the first time, it protected my skin beautifully and gave me a nice glow. I have issues with hyperpigmentation and this serum has done an excellent job preventing it.
My favourite product
This works so well on my skin, and does seem to reduce acne scars too. I have acne prone, dry skin. The only thing is, if my skin is irritated I cannot put this on my face as it stings too much
Great Product
It really is the one that makes you glow! Already seen big difference in my skin after a week. Would definitely recommend.
Incredible
I would love to come back and do another review once I have used this product consistently to update the effects on scarring. However, so far I have used it for 4 days and wow. On day 2 I noticed such a difference in my skin. Literally it was glowing and my red acne spots were minimized so much. My mom even noticed. I know that it wasn't just the look of the product when it was on my face that was creating that, because it looked better even the next morning after I had washed it off from the night before. I would say that it is an incredible product and I highly recommend it based on how it's already improved my skin, and also the fact that it's a sunscreen at the same time. I like that it doesn't feel like an extra step; like it doesn't feel like I'm putting on sunscreen. It feels like a part of my skincare because it's an oil. The only flaw about it is that it is so oily. Not in the way where it will clog your pores or give you acne (I have acne and it's made it better). But it's oily in the way that it feels like there is oil on my skin throughout the whole day, and even after you rub it in, if you were to touch your face hours later, you would get oil on your hand. Even with that though, I would still recommend it because it works so well. Another thing is that at first I thought I was allergic to it because it made my cheeks so red, but I think it's because it has ingredients in it like retinal....just a warning on that, but I decided to keep using it and it turned out to be totally fine. I'm honestly so happy - my skin is glowing!!!!! I can't wait to see what it looks like after a month.
Glowingly brilliant
Love this - and a great edition to my skin care! With this I don't need foundation or concealer